Safety Training--Why So Important?
September is National Preparedness Month, but we here at Safety Training Services, Inc. feel it is important to speak briefly about the importance of training at any date, especially in the workplace.
Merriam-Webster defines "training" as the skill, knowledge or experience acquired by one that trains. Specifically, "safety training" is for employees or even individuals working within the industrial and/or construction industries.
OSHA states that education and training provides employers, managers, supervisors, and workers with:
Knowledge and skills needed to do their work safely and avoid creating hazards that could place themselves or others at risk.
Awareness and understanding of workplace hazards and how to identify, report, and control them.
Specialized training, when their work involves unique hazards.
Many in these industries utilize equipment that has associated hazards intrinsic to its' use.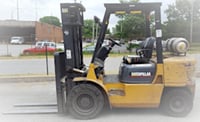 For example, forklifts, scissor lifts, boom lifts, even ladders, scaffolds or powered hand tools; just to name a few. Employee safety training is the necessary action or preventative action in order to instruct and teach your employee about the hazards and provide them the correct OSHA policies and procedures to stay safe while operating the machine or tool within the workplace.
Specifically, there are many benefits to training:
Statistically, less accidents!
Increased efficiency & productivity
Improves employee morale
Less time/manpower wasted on supervision and/or micromanagement
So why wait until the unthinkable happens? Contact STS and discuss your training requirements with one of our safety and hazardous materials specialists today!