Confined spaces refer to enclosed areas deemed dangerous due to limited access. These may be a storage tank or a pipe, anything that workers may work in or enter for maintenance that is not a habitable space. Confined spaces are made more dangerous by the hazards associated with them, including suffocation, submersion, entrapment, engulfment, etc. Knowing about confined spaces and their hazards is important because many confined space deaths are preventable. Unfortunately, too many of these are untrained rescuers going in after the original entrant unknowing of the hazards in the confined space and succumb to the same hazard(s) as the person they went in to help.
In fact, most multi-death fatal incidents involve one or more would-be rescuers who are improperly trained and equipped to rescue the original victim.
OSHA defines a confined space as:
Being large enough for an employee to enter and perform work,

Has limited or restricted means for entry or exit,

Is not designed for continuous occupancy.



A permit required confined space will contain all of the above, plus one or more of the following:
A potentially hazardous atmosphere

A substance that has the ability to engulf or asphyxiate the entrant

Inwardly converging walls within the space or a floor the slopes downward, tapering to a small cross-section

Contains any other serious safety or health hazard
A confined space attendant provides entrants protection during their time in a confined space. A confined space attendant is an optional service anytime an employee goes into a confined space, however in the event of a permit-required confined space, a confined space attendant is mandatory. A confined space attendant is a very integral part of the safety of the entrant and works as part of the confined space team, whom all have responsibilities to secure the safety of the team.

Confined Space Attendants' Responsibilities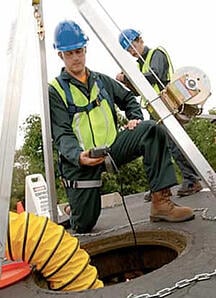 There are a few very important things that confined space attendants are responsible for. First and foremost, there must be at least one authorized attendant present at all times. The attendant controls access to the confined space. The duties of the attendant include testing the atmosphere of the confined space and periodically testing it again or continually monitoring it for any possible changes in the atmosphere. You must never enter a confined space if the atmospheric conditions are not suitable. They must also review and follow all permit procedures in a permit-required confined space. If a confined space attendant sees a hazard that is correctable, they will correct said hazard in a quick, safe, and efficient way. They will summon emergency assistance as needed. In the event that they are unable to correct a hazard, they will report the supervisor those hazards. If an attendant must never abandon his post for any reason while personnel are in the confined spaces unless relieved by another qualified attendant. Lastly, an attendant should keep records of confined space work, such as air test results, personnel entry/exit, etc.
Obviously, the attendant has the responsibility to keep the entrant safe from harm while they are working in the confined space, but an entrants and supervisors have their own responsibilities while working in/around a confined space.

Entrant Responsibilities
To assure that the space has been adequately ventilated, isolated, emptied, or otherwise made safe for entry.
To immediately exit a space, without question, upon word of the attendant, no matter what the reason.
To follow all safety rules and procedures.

To be familiar with the work to be performed and the procedures.
To use the appropriate PPE whenever necessary.

Supervisor Responsibilities
To assure adequate protection is provided to the entrants by verifying adequate lockout/tagout and that all hazards are isolated, controlled or eliminated.
To support the attendant's authority in controlling access to a confined space.
To verify that all personnel have exited prior to closing the space.
To assure that all personnel involved are aware of the hazards associated with the space.
To assure that rescue services are available prior to entry.
To that last point about rescue services, we need to be familiar with what that would include. Rescue services, must be available while authorized entrants are in a confined space. As we said in the first paragraph of this article, deaths often occur during rescue. Untrained persons enter the space to help the downed worker can get themselves caught in the confined space, or worse, become a victim themselves to whatever may have harmed the original entrant. Trained professional rescue services are available for this purpose. They are skilled in both non-entry and entry rescue techniques. A small sample of rescue work can be found below, with more extensive coverage found in the 'Non-Mandatory Appendix F -- Rescue Team or Rescue Service Evaluation Criteria' found on OSHA's website!

Non-entry: A rescue that is conducted without entry into the confined space. This can be conducted by such means as a rope or winch.

Entry by personnel trained to conduct rescues:

All members of the team must be specially trained in confined space rescue work,

The team must have at least one member certified in CPR and first aid,

All members of the team must be trained in the techniques and equipment for specific confined spaces.

The rescue team must practice in all types of spaces in which a rescue could be required.
Drawing on their knowledge and experience, our STS rescue team members are able to recognize and anticipate safety hazards unique to the job site and the environmental conditions. Our confined space attendants will monitor the site both for hazardous conditions and for entrance by unauthorized personnel and can order an evacuation when the situation warrants such action. Click below for information on the STS Rescue Teams and our rescue services!