In high angle rescue or confined space rescue the crux of our rescue systems are our knots. It is important as a rescuer that you understand the strengths, limitations, and appropriate applications of the knots your team uses, but is there more than one way to tie each knot?
Is there more than one way to tie a knot? YES!
As an instructor and a rescuer it is important to know multiple ways to reach the same destination. What I mean by this is that you knowing multiple paths or techniques to reach your end result of a successful rescue is paramount since most teams operate in anything but routine environments.
As a rescuer you may be in a situation that is not routine, that doesn't lend itself to the one method you learned in that one class, that method to rig a system or tie a knot may not be practical because you are now inverted in a confined space with multiple patients below you.
As an instructor you may have students who have been tying knots since birth and others who have never held a piece of rope in their life. You cannot take the approach that the student just isn't getting it, perhaps you're just not teaching it the way that works for them. Knowing multiple methods may help you find the way that works for a particular individual - guide them, show them the other methods.
As long as any given method brings us to the same end result, without any extra twists or strain to the rope, and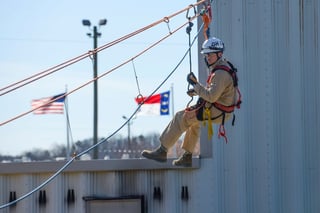 without using an extraordinary amount of time, it is an acceptable method. The goal here is to be proficient in whatever you do and be capable of doing it and 3 A.M. when called to a rescue.
As an example, I am aware of three ways to tie an Alpine Butterfly or Lineman's Knot: the twist method and two variations on the hand-wrap method. Any of these three methods creates the chosen knot and any argument made for one method over the other is typically only a matter of preference since you are creating the same knot each time.
Don't let yourself become the victim of routine or complacency. Because you ALWAYS work standby rescue for only two types of confined spaces, or you ONLY pick-off workers from a fall into their harness doesn't justify knowing ONLY that single method that you work with each time. At some point your routine will be broken, equipment will be missing or fail, or you'll have multiple patients outside of your routine situation. Get out of your comfort zone and never stop preparing. There are multiple ways to tie knots. Learn a new one today!