Hard hats have only been around for about 100 years, and have only been required for about 50. In the very late 19th century mining workers wore leather caps to protect themselves from falling objects. Needless to say, safety was not on the frontline back then. It wasn't until the construction of San Francisco's Golden Gate that a safer environment for the worker was envisioned. This was the first area designated as a "Hard Hat Area" due to part to falling rivets. It was then that the mining helmet was transformed into a durable industrial hard hat. By the 1980's, the hard hat had gone through a few more phases until it became what we know it is now, the standard hard hat.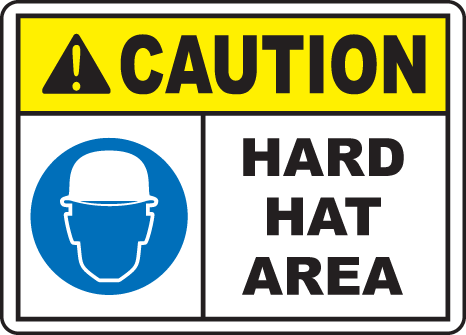 With the knowledge of where they came from out of the way, in no particular order, let's look at these 6 times a hard hat saved someone's life.
Story #1:
A 24-year-old man of Miami was working at a construction site, helping move a large sewer pipe via a huge pulley. The cable holding it up broke, and that huge pulley weighing several hundred pounds fell onto the worker's head. He suffered a large cut on his forehead and experienced back, leg, and head pain, but his hard hat prevented him from being severely injured or worse, death. (Source)
Story #2:
A salesman, alone and cutting down trees for firewood, was admittedly never a "hard hat guy." But his wife bought him a hard hat the year prior and insisted that he start wearing it. He was wearing it this day and I am sure he is glad he was, as a several hundred pound, 15 foot maple tree fell right onto his head after using the chainsaw to cut it down. He is certain that without that hard hat that day, he would not be around to tell the story. In fact, he is an advocate for all required PPE (personal protective equipment) necessary for the job. In his instance, gloves, chaps, and a hard hat are all part of what could save your life in a similar scenario! After a trip to the hospital for some stitches to address the small, but deep cut on his forehead, he was able to come out of the incident with but a simple battle scar.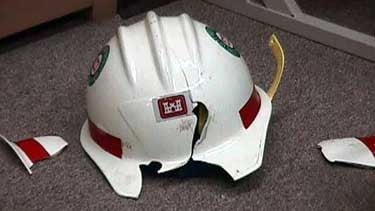 Story #3:
A long distance runner from Oklahoma was on a disaster recovery trip in Texas helping with a church group who was there after a hurricane struck. This man was wearing a ball cap all week, cutting down trees with a chainsaw, when someone asked him to put on a hard hat. Again, all week he was in simply a ball cap, but this was the last day (probably one of the last trees, no less) when he decided he would put it on. The tree he was to cut (after putting on his hard hat) was in a seemingly perilous, or otherwise unsafe position and he made note of it. Put still, the tree had to come down and so he went to work on cutting his 'V' into the tree. As he started on the other side, the tree came tumbling straight down onto his head, and broke his pelvis, neck, and ribs. He had internal bleeding and a punctured lung. After fighting for his life for hours, and several operations within a week, he was unsure if he would ever be able to walk again. But after an emotional 13 weeks, he began to walk. Almost 10 years later, he just walked his daughter down the aisle. Today, he looks at the cracked hard hat that he was wearing that infamous day and remembers how it literally saved his life. (Source)
Story #4:
A power plant mechanic was tasked one day with working with a team to find a leaky pipe in a turbine pit. He, along with the other two in his team, had examined the pit from the outside only to find zero problems. This mechanic had volunteered to go into the turbine pit area and look at the other end for the leak. The way to get in, however, required some balance and stability. The mechanic was 6 feet tall and the narrow 4 foot ledge with only 4.5 feet of headroom had this guy ducking & bending to walk along the ledge. The short story of what happen next is that he bumped his head on a horizontal reinforcement piece on the ceiling of the generator apron he was walking on. The blow disoriented him enough to readjust the hard hat over his eyes and he fell 20 feet. In the process of the fall, he was bumped around and even lost his hard hat, but it stayed on him long enough to prevent serious injury or worse. A few gashes, bruises, and cuts appeared and his hard hat was shattered (both in front and back), but he was alive. After quick medical assistance, some rest at home, and a little physical therapy, he was able to retuen to work. The reason this particular accident is special is because the hard hat that fell off during this fall was held on momentarily by earmuffs during the blow which forced the hard hat to shatter. Regardless of the condition of the hard hat after the fact, the most important piece of information is that he was wearing it in the first place! (Source)
Story #5:
A 24 year old electrical contractor in Portland was working on a wind tower about 164 feet up when a 7 pound piece of plastic tubing fell from 65 foot above him and hit him on the head and shoulder. The man briefly lost consciousness and suffered spinal injuries while he was stretchered down a ladder and flown (in stable condition) to a hospital for medical care. This was another case where a person's hard hat probably prevented a fatality. (Source)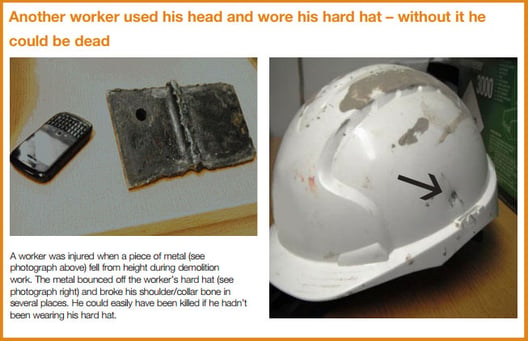 Story #6:
A demolition contractor was moving roofing materials from a platform onto the ground during the demolition of some old offices and warehousing. At roof height near him was a substantial piece of cast iron guttering which had been left unsupported for two days during the demolition. The guttering gave way and hit him and he broke his right arm, 7 ribs, and a vertebrae in his spinal column. He also received a cut to his head and punctured a lung. But again, for the sixth story on the subject, he survived due to the head protection he was wearing. (Source)
Truly, the hard hat is a revolutionary piece of safety history. These are just a few instances of when this wonderful, life-saving plastic helmet has proven itself to be a necessary part of any safety-conscious person's attire. Don't forget any other PPE needed for a specific job, stay safe both at home and at work, and always remember your hard hat!
_______________
If you have a need for hard hats, or any other safety-related equipment, STS is ready to assist you in choosing the right equipment for your situation. Whether its PPE, air monitoring equipment, fall protection, first aid kits, AEDs, or anything in between, we are available to your company. We also offer OSHA related safety training, consulting work, and even are available to assist you with any rescue team needs as well as supplied air trailers available for rent! Contact us below to find out how our blended safety services can assist your company with any safety or OSHA related need.