The OSHA standard for the Control of Hazardous Energy (Lockout/Tagout) (29 CFR 1910.147) for general industry, also known as LOTO, was created in an attempt to reduce worker death and injury rates. Use of proper lockout/tagout practices and procedures keep workers safe from the release of hazardous energy by ensuring that dangerous machines are properly shut off and not started up again prior to the completion of maintenance or servicing work. Compliance with the lockout/tagout standard prevents an estimated 120 fatalities and 50,000 injuries each year.
According to OSHA, workers injured on the job from exposure to hazardous energy lose an average of 24 workdays for recuperation.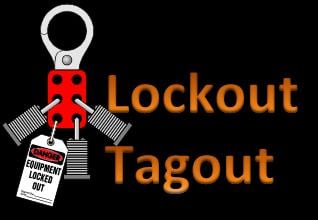 Lockout/tagout is required when the unexpected energization or start up (or release of stored energy) of machines, equipment or prime movers could injure workers during cleaning, repairing, servicing, setting-up, adjusting and un-jamming.
The LOTO standard also establishes the employer's responsibility to protect workers from hazardous energy. Employers are required to train their employees in the purpose and function of the energy control program and have the knowledge and skills required for the safe application, usage and removal of the energy control devices. The training must cover at least three areas: aspects of the employer's energy control program; elements of the energy control procedure relevant to the employee's duties or assignment; and the various requirements of the OSHA standards related to lockout/tagout.
Employers Must:
Develop, implement, and enforce an energy control program.

Use lockout devices for equipment that can be locked out.

Tagout devices may be used in lieu of lockout devices only if the tagout program provides employee protection equivalent to that provided through a lockout program.

Ensure that any new or overhauled equipment is capable of being locked out.

Develop, implement, and enforce an effective tagout program if machines or equipment are not capable of being locked out.

Develop, document, implement, and enforce energy control procedures.

Use only lockout/tagout devices authorized for the particular equipment or machinery and ensure that they are durable, standardized, and substantial.

Ensure that lockout/tagout devices identify the individual users.

Establish a policy that permits only the employee who applied a lockout/tagout device to remove it. (See 29 CFR 1910.147(e)(3) for exception)

Inspect energy control procedures at least annually.

Provide effective training as mandated for all employees covered by the standard.

Comply with the additional energy control provisions in OSHA standards when machines or equipment must be tested or re-positioned, when outside contractors work at the site, in group lockout situations, and during shift or personnel changes.
Employers have a good list of responsibilities to follow in order to keep in compliance with the OSHA standard, but how does LOTO translate to layman's terms? Well, we've broken it down into 4 topics in order to help anyone grasp what lockout/tagout is all about.
What is isolation? What is the procedure for LOTO?

What are lockout devices?

What are tagout devices? When can they be used?

How/when to remove these devices?



Isolation
Isolation means disconnecting the equipment (or making safe) by removing all energy sources. The steps necessary to isolate equipment are documented in an isolation procedure or a lockout/tagout procedure. The procedure usually generally includes the following tasks:
Identify the energy source(s)

Isolate the energy source(s)

Lockout and tag the energy source(s)

Prove the equipment isolated and made safe by trying out the equipment.
Remember, the locking and tagging of the isolation point lets others know not to de-isolate the device.
Lockout Devices
Circuit breakers
Slide gates
Line valves
Disconnect switches
Ensure that an energy-isolating device cannot be used until the lockout device is removed. A lockout device uses a positive means, such as a key or combination lock, to hold an energy-isolating device in a safe position and prevent machine or equipment from energizing. The lockout device must be substantial enough to prevent removal without excessive force or unusual techniques.
A lockout device must be used unless the employer can demonstrate that a tagout system would provide full employee protection.
Tagout Devices
Tags or other prominent warning devices

Indicate that an energy-isolating device and its equipment must not be used until the tagout device is removed.

The tagout device must be nonreusable, attached by hand, self-locking and nonreleasing with a minimum unlocking strength of 50 pounds, and must be at least the equivalent of an all-environment tolerant nylon cable tie.
Removal of Lockout/Tagout Devices
Before removal of a lockout/tagout device, authorized employees must make sure that nonessential items are removed and machine components are operationally intact. The area should then be cleared of employees (or safely positioned away from the device) and all affected employees should be notified that the LOTO devices are (to be) removed. The person who removes the LOTO device must be the person who originally applied it. If they are not available, another employee may remove the device if the employer has established a specific procedure and training for it.
Safety Training Services, Inc.
provides
Lockout/Tagout training
for you and your company! Enroll today in our lockout/tagout course to be able to recognize applicable hazardous energy sources, the type and magnitude of the energy available in the workplace, the methods and means necessary to isolate and control energy sources, and more!