As you may have already heard, OSHA has developed a new construction standard for confined spaces. That standard, 29 CFR 1926 Subpart AA, will replace the previous single training requirement for confined space work and instead be a comprehensive standard that is similar with the general industry confined space standard, but will address construction specific hazards and will improve enforceability of the new requirements.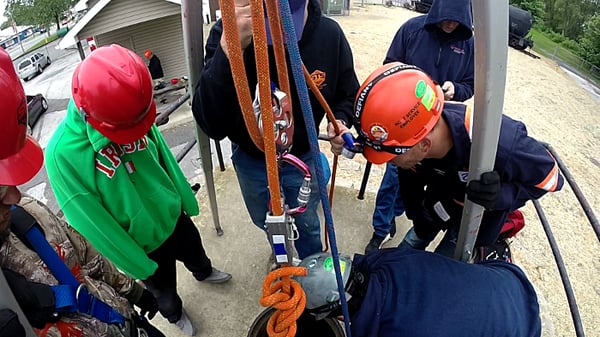 In this article, I will discuss a few more specifics from this new standard so as to raise awareness of the requirements, the hazards specific to the construction industry, and even touch on a bit of information about the standard covering permit-required confined spaces in general industry so you may see how the two are similar but different enough to warrant necessary training & knowledge specific to one or the other.
The new rule differs from the previous construction rule in that employers must now determine what kinds of confined spaces their workers are in,what hazards are present or could be present there, how to make those hazards safe, what training is required for workers, and how to rescue those workers if something were to go wrong.
Confined Spaces in Construction: Crawl Spaces and Attics
Crawl Spaces and attics, under the new construction standard, can be classified as confined spaces and permit-required confined spaces. Many times these spaces have one way in or out, are small but large enough for a person to enter, and are not generally built for continuous occupancy. With these facts, they are the very definition of confined spaces. If you are, for example, spraying in the attic, one could be exposed to hazardous atmospheres or low oxygen levels. Confined space hazards can include:
Atmospheric hazards
Electrocution
Standing water
Poor lighting
Structural collapse
Asbestos insulation
Heat stress
Mechanizal hazards
Slip, trip, fall hazards
Confined Spaces in Construction: Pits
Pits can also be classified as confined spaces and permit-required confined spaces. Sump pits, valve pits, electrical pits, elevator pits, steam pits, etc. are entered for renovation work, installing equipment or cables, or simply just to verify the status of something in said pit. By changing the entry or exit or even changes in the air flow can allow these spaces to be classified as confined spaces or re-classify as a permit-required.
Confined Spaces in Construction: Sewer Systems
Sewer systems, whether sanitary, storm, or combined, are extensive and include many different components. Many, if not all, of these components can be classified as confined spaces. Of course, with some changes in the construction work, these can be permit-required as well. Continuous air monitoring is very important while working in sewer systems. Other hazards include:
Atmospheric hazards
Chemicals present
Drowning or engulfment
Electrocution
Slips, trips, falls
Falling objects
High noise and/or low visibility
So what are the differences between the general industry & the construction rule? There are five new requirements that differ from the general industry rule. You can find them below:
More detailed provisions requiring coordinated activities when there are multiple employers at the worksite. This will ensure hazards are not introduced into a confined space by workers performing tasks outside the space.

Requiring a competent person to evaluate the work site and identify confined spaces, including permit spaces.

Requiring continuous atmospheric monitoring whenever possible.

Requiring continuous monitoring of engulfment hazards.

Allowing for the suspension of a permit, instead of cancellation, in the event of changes from the entry conditions listed on the permit or an unexpected event requiring evacuation of the space. The space must be returned to the entry conditions listed on the permit before re-entry.
In addition, OSHA has added provisions to the new rule that clarifies existing requirements in the general industry standard.
Requiring that employers who direct workers to enter a space without using a complete permit system prevent workers' exposure to physical hazards through elimination of the hazard or isolation methods such as lockout / tagout.
Requiring that employers who are relying on local emergency services for emergency services arrange for responders to give the employer advance notice if they will be unable to respond for a period of time (because they are responding to another emergency, attending department-wide training, etc.)
Requiring employers to provide training in a language and vocabulary that the worker understands.
Finally, several additional definitions have been added to the construction rule. For example:
Entry employer - The employer who directs workers to enter a space.
Entry rescue - Clarifies the differences in the types of rescue employers can use.


The final rule will become effective on August 3, 2015.
Get the jump on the new rule(s) by signing up for safety training courses through STS. Whether you come to our Highland facility or we come to yours, we can assist you and your employees in OSHA compliance throughout your workplace. We conduct training, sell/rent equipment, provide rescue teams, and are even available as an on-call consultant ready to assist you with any OSHA-related issues. For more information, simply contact us below and let us know how we can help you.