In the last few weeks there has been a particular video circulating through various online firefighter and rescue groups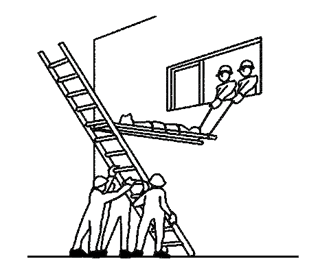 that caught my attention. In the video firefighters are using a ladder, backboard, and rope to move a patient from a roof or second floor to the ground. Depending where you were watching this video there were some great comments about thinking outside the box and using alternative methods to raise and lower patients. There were a large number of comments that were a little deceiving; comments attributed this rescue technique -- a ladder hinge -- to the fire department in the video. It's great to see this technique being used, but by today's standards it may be considered an old school technique. The ladder hinge gets overlooked or forgotten about when so many people are arguing over which friction device is the best. Depending on your location in the country or the world this technique is still taught, relied upon, and used regularly. For another take on a ladder hinge rescue see video link below.
It is not my intention to thoroughly train you to use this rope rescue technique; only to provide a few things to consider in order to operate safely.
Patient Packaging
Before you tie any knot for rescue consider the patient packaging device -- not all spine boards, litters, and rescue baskets are created equal, nor can they be easily substituted on the fly without some loss of strength. Ensure you aren't exceeding the device's load rating. It may be rated for an 800-1,200 pound patient when carried or used to drag a patient horizontally, but that does not necessarily mean that can rig this patient basket for any type of rescue situation. Injuries or suspected injuries must be considered and protected and we can provide these things by lashing the patient to a long spine board and then lashing patient and board into the rescue rated basket.
Stability
If using a rescue basket (ensuring the patient is lashed appropriately), this basket needs to have three points of contact. If the basket has a single connection to the ladder and a single connection to the lowering rope the basket is less stable. One connection to the lowering rope and two connections to the ladder, webbing, or some other means to secure around each ladder rail, will prevent tipping or rotating the basket.
Control
With enough personnel to support the ladder on the ground, and rigged with guy lines, the rescuer with the lowering rope may feel that they can control the rate of patient raising or lowering by hand alone. A safety consideration is to secure your rope to the rescue basket and then find an appropriate anchor for a friction device such as an MPD, bar rack, or Rescue 8. Rigging your ladder hinge with one of these devices on the line prevents catastrophic failure of your load should something happen and the rescuer lose control of the line.
As a rope rescue technique, a ladder hinge is a great option available to the fire department or an industrial rescue team. When performed safely and practiced regularly this rescue method can quickly evacuate patients to the ground or to higher elevations. And always remember: before implementation of any new equipment or techniques always seek out training from a qualified instructor.