July is UV Safety Month.
This month, we take a look at educating ourselves and other individuals on how to protect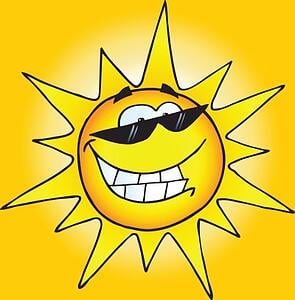 ourselves from overexposure to the sun. The sun emits radiation in the form of ultraviolet (UV) light. This is classified into 3 types based on wavelength: UVA, UVB, and UVC. UVC, the shortest length, never reaches us on the ground because our protective ozone layer blocks all UVC light. But UVA and UVB pass right through. This is potentially dangerous as UVA light is what causes wrinkling or leathering of the skin and UVB causes sun burns. They both can cause skin cancer.

Skin cancer is the most common type of cancer in the United States, with millions of new cases diagnosed each year. The main cause of skin cancer is exposure to the sun's ultraviolet (UV) ray's. These UV rays can weaken the immune system, increase sun spots and wrinkles, cause blotchy skin, and lead to premature aging.
The two most common types of skin cancer,
Basal cell

Squamous cell carcinomas
are highly curable!
Melanoma, the 3rd most common type of skin cancer, is more dangerous. About 65-90% of melanomas are caused by exposure to UV light. Skin cancer affects people of all ages, including older adults.
Although anyone get skin cancer, those with fair skin, blond or red hair, and blue or green eyes are at the greatest risk. But everyone else should still take precautions, as everyone is at an equal risk for eye damage due to overexposure to the sun's UV rays.
Today's older Americans face increased sun-related health problems because when they were growing up, little was known or communicated about protection from UV rays. The good news, however, is skin cancer can be prevented! Here are some safety tips to protect your skin while being outdoors this summer:
Choose sunglasses based on 100% UV protection of both UVA and UVB rays. The color and how expense they were mean nothing compared to the REAL reason we wear sunglasses.

Go for the wrap arounds. That means they wrap around your temples so that the sun's rays can't enter from the side.

You may have contact lenses with UV protection, but don't rely on this; remember your sunglasses.

Put on sunscreen 20-30 minutes before going outside. Don't wait until you are outside and already exposed.

Use a broad-spectrum, water-resistant sunscreen with a Sun Protection Factor (SPF) of at least 15.

Broad spectrum sunscreen protects against overexposure from both UVA and UVB rays.

Put on sunscreen before applying makeup, insect repellent, or tanning oils.

The longer the amount of time that you plan to be outside, the higher the SPF on your sunscreen should be.

Reapply sunscreen as needed, about every 2 hours; even if its water-resistant.

Be careful between the hours of 10 am & 4 pm. These are peak sunlight hours where the UV light is most intense.

UV light is also more intense at higher altitudes.

Intense UV light can be reflected off of water, snow, sand, and cement.

In addition to sunglasses, wear a hat. Broad-brimmed hats especially, protect your eyes, ears, face, and neck.

Don't forget the children; they too are at risk!
This should go without saying, but...NEVER look directly at the sun. Looking directly at the sun at any time, even during an eclipse, can lead to solar retinopathy, damage to the eye's retina from solar radiation. This exposure to bright sunlight increases the risk of developing cataracts, macular degeneration, and growths on the eye including cancer.
Don't be fooled by the clouds in the sky, the sun's rays pass right through them. The eyes are at risk to UV rays all year round (not just in summer). Sunlight is not the only culprit though--tanning beds, sun lamps, etc. offer higher doses of UV radiation than sunlight!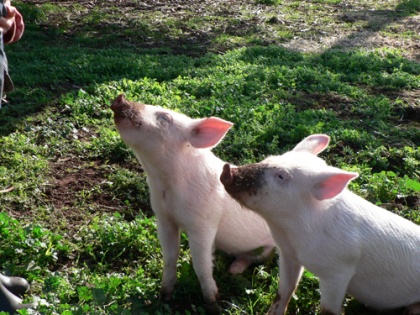 UV radiation is not limited to just us humans either. Both plants and other animals are affected by it. For example, a plant's overexposure to the sun could mean affecting its photosynthesis. This can affect the growth of the plant, and therefore can potentially impact the structure of an ecosystem in a negative way. Animals, especially those with little to no hair, can get sunburn just like any of us. This is why pigs (and other similar animals) roll around in the mud, they use it like sunscreen!
American Cancer Society promotes a clever slogan that actually kind of helps you remember the steps for UV radiation protection: "Slip! Slop! Slap! and Wrap!" This stands for: Slip on a shirt, slop on some sunscreen, slap on a hat, and wrap on your sunglasses.
For tips on how to stay safe while grilling this summer, click here for our article about 'Grilling Safety.' And stay subscribed to the STS Blog for more great safety information and safety tips to get you through the summer. Our Summer of Safety Blogs continue with out next article, covering Fireworks Safety, followed by Eye Injury Prevention!