Here we are already in June, and summer is around the corner. June and July are peak months for grilling fires. But before you dust off that spatula and run to the store for some steaks and A1, let's take a moment to discuss grilling safety and some tips to keep you from ending up like this poor guy.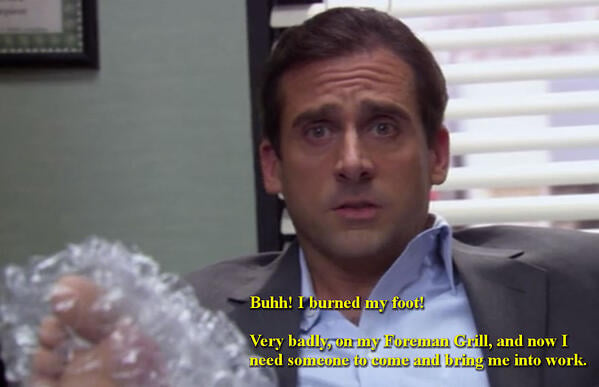 The National Fire Protection Association (NFPA) recommends grillers are mindful of safety. Grills, in general, pose an obvious risk for fires and burns. Gas grills pose a slightly higher threat than charcoal grills in that gas grills contribute to a higher number of home fires than charcoal ones.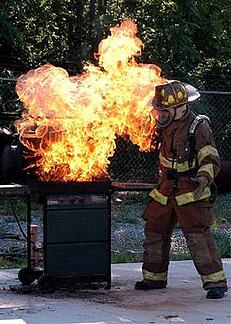 Running the Numbers
According to an analysis done by the NFPA, in 2006-2010, U.S. fire departments responded to an average of 8,600 home fires involving grills, hibachis, or barbecues per year, including an average of 3,600 structure fires and 5,000 outside fires. These 8,600 fires caused an annual average of 10 civilian deaths, 140 reported civilian injuries, and $75 million in direct property damage. Once again, July was the peak month for grill fires, but these incidents occur throughout the year.
Flammable or combustible gas or liquid was the item first ignited in almost half of home outdoor grill fires. In almost half (46%) of the home outdoor fires in which grills were involved, 53% of the outside gas grills, and 26% of gas grill structure fires, the fire started when a flammable or combustible gas or liquid caught fire.
Gas vs. Solid-Fueled (Information from NFPA "Grill Fact Sheet")
83% of grills (5 out of every 6) involved in home fires were fueled by gas while 14% used charcoal or other solid fuel.

Gas grills were involved in an average of 7,100 home fires per year, including 2,800 structure fires and 4,300 outdoor fires annually.

Leak or break was the leading factor contributing to gas grill fires.

Charcoal or solid-fueled grills were involved in 1,200 home fires, including 600 structure fires and 500 outside fires.

The leading cause of these structure fires was something that could burn being too close to the grill.
More than one-quarter (28%) of the home structure fires involving grills started on a courtyard, terrace, or patio:
28% started on an exterior balcony or open porch.
6% began in the kitchen.
5% started on an exterior wall surface.
Emergency Room Visits Due to Grills
In 2011, 16,600 patients went to emergency rooms because of injuries involving grills. 7,800 (about half) of the injuries were thermal burns.
Children under five accounted for one-quarter (26%) of the thermal grill burns. These were typically contact burns rather than flame burns.

Almost one-third of the gas grill injuries were burns incurred while lighting the grill.
Before the Season Starts
Before using a propane grill for the first time each year, make sure to check the gas tank hose for leaks. If no visible cracks or holes are apparent, use the "bubble test." A propane leak will release bubbles. Do this by applying a light soap and water solution to the hose. If turning off the grill and gas stops the leak, get its serviced before using again. If the leak doesn't stop, call the fire department.
For a charcoal grill, there are several ways to get ready to use. Using a charcoal chimney starter allows you to start the charcoal using newspaper as fuel. If you use starter fluid, use charcoal starter fluid. Do not add charcoal fluid to the fire! Make sure to keep charcoal fluid out of the reach of children and away from any other heat sources. There are also electric charcoal starters, which do not use fire. With charcoal grills, let the coals completely cool when finished grilling. And always dispose of coals in a metal container.

7 Quick Tips for Grill Safety
Propane and charcoal grills should only be used outside.

Children and pets should be kept at least 3 feet away from the grill area.

Never leave your grill unattended.
Never ignite a gas grill while the lid is closed.
Clean your grill often by removing grease or fat buildup from the grills and in trays below the grill.
If the flame goes out, turn the grill and gas off and wait at least 15 minutes before re-lighting it.
If you smell gas while cooking, immediately get away from the grill and call the fire department. Do not move the grill.
Make sure to keep grills a good distance away from your home and any deck railings. They should be out and away from under eaves and overhanging branches. Keep fuel away from home and other structures as well. Harmless as it may seem, if fuel positioned too closely to the home and there is fire involving grill equipment, it may become fodder for said fire to ignite the home/structure.

Remember, fire is an indispensable tool when used to grill outdoors. Kick off your summer fun right, with hot dogs and burgers, not fire and destruction!
For more safety tips and relevant safety news subscribe to the Safety Training Services, Inc. Safety Blog or check us out on Facebook and Twitter!
Looking for OSHA, HAZMAT, forklift or other safety training courses? Look no further then STS; where we offer "Real Experience. Real Training. Real Results."