A Confined Space...
has limited or restricted means for entry or exit, and it is not designed for continuous employee occupancy.
Confined spaces include, but are not limited to underground vaults, tanks, storage bins, manholes, pits, silos, process vessels, and pipelines (OSHA.gov).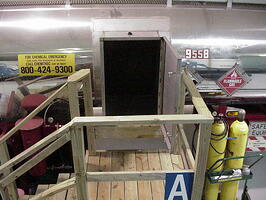 ---
29 CFR 1910.146
Employers are required to:
Identify all confined spaces in their workplaces
Prevent unauthorized entry into them
Develop a program for authorizing and protecting those who will enter
---
Permit-Required Confined Spaces
is a confined space that has one or more of the following characteristics:
Contains or has the potential to contain a hazardous atmosphere.
Contains a material that has the potential to engulf an entrant.
Has walls that converge inward or floors that slope downward and taper into a smaller area which could trap or asphyxiate an entrant.
Contains any other recognized safety or health hazard, such as unguarded machinery, exposed live wires, or heat stress.

---
Permit-required confined spaces call for 8 things:
A permit for entry.


Monitoring of hazards/hazardous conditions.

Stand-by rescue attendants.

A plan for rescue services or other emergency services.

Communicating the hazards to your workers.

Appropriate training for ALL involved and proper PPE (personal protective equipment).

Review of the plan/program.

Appropriate signage/postings/barriers.
---
Confined Space Entry Training
Prior to confined space entry, a few training issues should be addressed.
Hazard communication should be covered with all in the involved party. This should include all (potential) hazards in the space. Some examples would be oxygen deficiency, combustibility, toxicity, and any physical hazards.
---
Whether it is the supervisor, attendant, or the entrants themselves, specialized training before entering a permit-required confined space is necessary for the involved party. Here is a breakdown of what each member should know.
Supervisors - They must know how to review the permits prior to signing, be able to make sure all operations are consistent with said permit, and must terminate/cancel the permit when the appropriate time comes. They must also be responsible for knowing the availibility of the rescue services.
Attendants - They must be familiar with and follow all emergency procedures and keep in constant touch with the entrants. They must prevent unauthorized persons from entering the space and be prepared to order an evacuation of the space. They must also be ready to use retrieval equipment and call rescue personnal if necessary. Attendants should never attempt to rescue the entrant themselves!
(Authorized) Entrants - They must have a plan to achieve the task so as to complete it quickly and efficiently. They must test the area and ventilate as necessary, lock out/tag out all sources of energy, and must wear proper protective clothing and equipment. They must also know the escape route and be ready to get out if ordered or if necessary due to symptoms of exposure.