Hazardous Chemical Transportation (Formerly DOT HM-126F) Training
Hazardous Chemical Transportation Training - This 4-hour class applies to employees involved in shipping and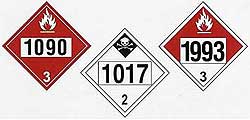 the packaging of hazardous materials and transportation of these materials by means of over-the-road, railway, aircraft, or vessel. Meets the requirements of: PHMSA Code of Federal Regulations (Title 49, Subpart H, Parts 172.700-172.704).
Course Overview
Safety Training Services, Inc. has developed a comprehensive training program that encompasses all aspects of the training requirements for "Hazardous Materials Employees" under the amendment to the hazardous materials regulations. This program covers:
Overview of HM-172.704.
Hazardous materials table.
Shipping papers.
Labeling of hazardous materials.
Packaging and marking.
Loading and segregating materials.
Placard requirements.
Safety training overview.
DOT Emergency Response Guide.
Properties of hazardous materials.
DOT classifications of hazardous materials.
Basic emergency response actions.
Click Here to download a PDF of the course overview