Lockout/ Tagout Training
Lockout/Tagout Training - This 2-hour program applies to all persons engaged in servicing and maintaining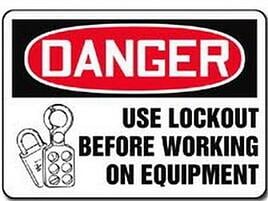 machines and equipment that might energize or start-up unexpectedly. Meets the requirements of 29 CFR 1910.147.
Course Overview
Safety Training Services, Inc. will conduct a training program that satisfies the OSHA Control of Hazardous Energy Sources Standard (29 CFR 1910.147) to ensure that the purpose and function of an energy control program are understood by employees and that the knowledge and skills required for the safe application, use, and removal of energy control devices are acquired by applicable employees. The training will include the following:
The recognition of applicable hazardous energy sources, the type and magnitude of the energy available in the workplace, and the methods and means necessary to isolate and control energy sources.
The purpose and use of the energy control procedure.
Prohibitions relating to attempts to restart or reenergize machines or equipment that are locked out or tagged out.
When Tagout systems are used, participants will also be trained in the application and limitations of tags.
Click Here to download a PDF of the course overview