Fire Extinguisher Services
The purpose of this page is to provide general information for the following fire extinguisher services. Note that fire protection supplies such as new extinguishers, cabinets, and signs are also available.
Written Proposals are available upon request.
Free estimates are available by appointment only. To setup an appointment, call us toll free 877-724-2744.
Note, this is a service we offer to our corporate clients only.
---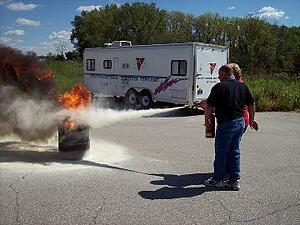 TRAINING
Training in the use of fire extinguishers should be an important part of your safety program. We offer training programs that familiarize employees with the general principles regarding the use of a fire extinguisher and the hazards involved in fighting an incipient stage fire.
We can demonstrate the appropriate use of equipment using hands-on scenarios. Studies have shown that an employee with even minimal training is able to put out significantly larger fires than those with no training.
---
RECHARGE [Service & After Use]
All extinguishers need to be recharged after use or as indicated by an inspection or maintenance examination. Recharging is the replacement or replenishment of all the extinguishing agent. It also includes the replenishment of the expellant for certain types of fire extinguishers. When performing the recharging, we use only those materials specified on the nameplate. The use of other recharging materials may impair the efficiency of the unit, cause malfunction, or cause injury to the operator.
---
INSPECTION
Inspection is a check that an extinguisher is available and will operate. This is done by seeing that it is in its designated place, that it has not been actuated or tampered with, that the visual inspection seals are intact, and that there is no obvious physical damage or condition to prevent operation.
The value of an inspection lies in the frequency, regularity, and thoroughness with which it is conducted. The frequency will vary based on the needs of the situation and appropriate standards. Inspections should always be conducted when initially placed in service and thereafter at approximately 30 day intervals unless otherwise specified by NFPA standards.
---
MAINTENANCE
Extinguishers shall be maintained at regular intervals, not more than one year apart, or when specifically indicated by an inspection. Maintenance is a thorough check of the extinguisher. It is intended to give maximum assurance that an extinguisher will operate effectively and safely. It includes a thorough examination and any necessary repair, recharging, or replacement. It will normally reveal the need for hydro-static testing of an extinguisher.
---
HYDROTEST
Extinguishers shall be tested hydro-statically at regular intervals as required in the Standard for Portable Fire Extinguishers (NFPA-10) or more frequently when inspection or maintenance indicates a specific need. Such tests are usually required on extinguisher shells, cylinders, some cartridges, and some hose assemblies. If, at any time, an extinguisher shows evidence of corrosion or mechanical injury, it shall be subjected to a hydro-static pressure test or replaced. WARNING: Air or gas should not be used for pressure testing as failure of a shell could be violent and dangerous, and may result in personal injury.
---
RECORD-KEEPING
Each extinguisher shall have a tag or label securely attached that indicates the month and year the maintenance was performed and shall identify the person performing the service. The same record tag or label shall indicate if recharging was also performed. At least monthly, the date the inspection was performed and the initials of the person performing the inspection shall be recorded.
In addition to the required tag or label, a permanent file record should be kept for each extinguisher. This file record should include the maintenance date and the name of the person or agency performing the maintenance; the date when last recharged and the name of the person or agency performing the hydro-static test; and a description of dents remaining after a hydro-static test.
---