Fire Extinguisher Training
Fire Extinguisher Training - This 2-hour program will familiarize employees with the general principles of a fire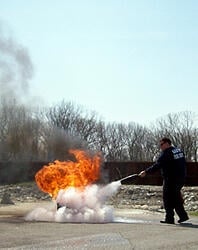 extinguisher and the hazards associated with an incipient stage fire. Meets the requirements of 29 CFR 1910.157.
Course Overview
Safety Training Services, Inc. will conduct a training program in accordance with the OSHA Fire Extinguisher Standard (29 CFR 1910.157). This program will familiarize employees with the general principles regarding the use of a fire extinguisher and the hazards involved in fighting an incipient stage fire. The training will also include the following:
Demonstrate the appropriate use of equipment to employees who have been designated to use firefighting equipment as part of the company's emergency action plan.
Click Here to download a PDF of the course overview