First Aid Cabinets Sales & Servicing
Providing Effective Relief to Get Your Employees Back to Work
Our customized first aid cabinets and supplies can meet or even exceed OSHA requirements. Each one of our wall-mountable first aid cabinets are well-stocked with products that will give your employees fast, safe treatment. All of the products provided can be regularly restocked with scheduled visits by our safety representatives.
More then just a medicine cabinet....Peace of mind!
Reduce employer liability by maintaining compliance
Provide quick & effective response to injury
Color-coded products for easy identification
No contract required!

Maximize workplace productivity with all the first aid essentials your employees need in one easy to access cabinet! Restocking services are available. No Contract Required!


First Aid RESCUE Backpack & AED
Safety devices for your employee off-site or outdoors
Safety Training Services, Inc. is proud to introduce our Complete First Aid RESCUE Backpack with an Automated External Defibrillator (AED) and a smaller carry AED case for when you need to grab the unit in a hurry.
The First Aid RESCUE Backpack can handle the most mild injury with product stowed inside easy to handle detachable zipper pouches and the AED to treat victims of sudden cardiac arrest. These defibrillators are designed to quickly and easily provide an electric shock that restores the victim's normal heart rhythm.
If you are looking for a smaller solution, the Carry Bag provides additional protection for your AED and has a large back pouch that is perfect for storing extra electrodes.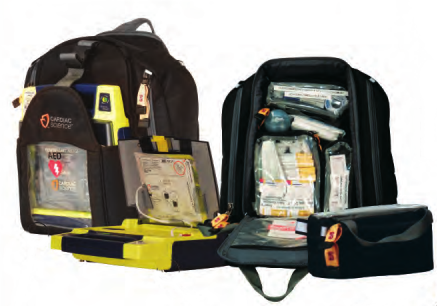 Cardiac Science RESCUE Backpack
Spacious main compartment
Filled with removable pouches
Ideally suited to organize, store and carry other essential rescue supplies


Cardiac Science AEDs
Carry case
Adult defibrillation pads & battery
AED First Responder Kit
AED decal sticker
AED inspection tag
7 year manufacturer warranty