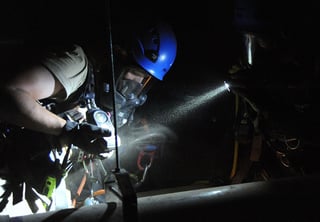 While there are countless rescue classes, instructors, books, and online resources to learn confined space rescue, there is no universal standard that dictates how a confined space or industrial rescue should be conducted. What should be universal is the careful assessment of the hazards within the space to create a safe environment for the confined space entrant. There are many common practices but what might be true and accepted in one part of the world may not be held in the same regard in another workplace. There are as many choices in rescue type as there are unique confined spaces in existence but generally there are two types – entry rescue and non-entry (or retrieval) rescue. No matter who might provide these services, fire departments, in-house rescue teams, or contract personnel on standby, it is important to understand the intended scope and limitations of each.
While our primary concern is the safety of the entrant, let's consider for a moment the financial impact of non-entry and entry rescue. If the design and hazards of a given space allow for it, non-entry rescue requires far less investment by the employer and is a satisfactory rescue method. In its simplest form, non-entry rescue requires a tripod (or other anchor) and a winch rated for human beings (not tools and equipment). Any employee entering the space would require a harness in addition to the training required to perform entry, initiate a rescue, or operate as a confined space attendant. If there are no obstructions within the space, this can be daily routine for many in order to enter a space and it can be the rescue method – no additional personnel are required to enter the hazardous space in order to retrieve or rescue the entrant.
The leanest confined space rescue team, in terms of equipment, and streamlined and who is responsible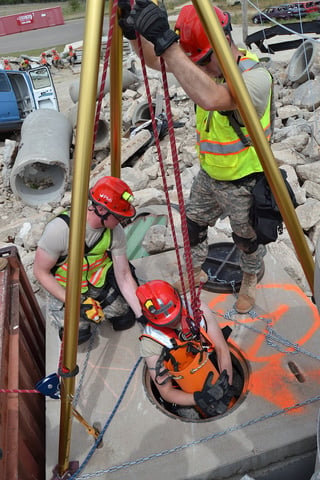 to make entry in the event of an emergency will require countless hours of training to maintain proficiency in patient care, personal protective equipment, atmospheric monitoring, and rescue techniques. Additionally, there should be training which addresses the stressful nature of rescue when the rescuer personally knows the coworker needing rescue, as well as any additional hazards now present within the space. Confined spaces are hazardous at the start of a work day, if you have an emergency within the space it is multiplying the complexity of the incident. OSHA requires that entry rescue teams perform at least one rescue per year. The following statement may sound extreme – do you want a rescuer entering a confined space to rescue you if that rescuer has only performed one rescue? Your rescue team now has the need to perform under stressful conditions with a variety of equipment, within a variety of spaces, using one of hundreds of techniques to remove the entrant having an emergency.
What does this have to do with cost? You can maintain an OSHA compliant rescue team with team members performing one rescue per year, but they may be ineffective. As a confined space rescue instructor, I have encountered teams who train weekly, monthly, quarterly, and annually. Those who only train annually may eventually rescue or recover the entrant. Those who train annually, when compared to rescuers who train monthly or more, typically lack the confidence and quick decision-making skill to accurately and expediently size-up the emergency, make entry, and retrieve the entrant.
With these considerations, your choice of entry or non-entry rescue may be quite clear in terms of your budget. However, if your confined spaces do not allow an unconscious person to be successfully retrieved from around, under, or over obstructions in your confined spaces you must have a safe and proficient entry rescue team.
"But, we call the fire department if we have a confined space emergency!"
Do you know the average response time of your local fire department? Depending on your location it could be less than five minutes, maybe ten minutes, possibly fifteen minutes, or even greater. Once you've assessed your fire department and their response time, add at least ten minutes. Why are we counting minutes? Let's assume the team is available, their response time to your facility is only 6 minutes. Once they have arrived they will assess the situation, form a plan, gather equipment, and assemble at the space to begin rescue. If you are currently entertaining the idea of the fire department as your rescue team you must ask yourself, in the absolute worst atmosphere that your employees may encounter will they be able to hold their breath for 5-25 minutes? Eliminate any emergencies related to the space itself, consider only medical emergencies such as low blood sugar, cardiac arrest, or traumatic injuries from a fall from scaffolding inside the space. With a window of 5-25 minutes your employee may have gone from a very survivable situation to one that may not be reversible.
"What does this have to do with my non-entry rescue team?"
This has everything to do with your non-entry team because the next step in a failed non-entry rescue is entry rescue. Every non-entry rescue can quickly become an entry rescue because:
A collapsed entrant's body position does not allow the use of a winch without further injury

An injured entrant may be positioned behind a wall, pumps, or other equipment in the space
The sludge pit, metering pit, or other space does not allow for use of an industrial tripod and that's the only equipment your non-entry team has
Your non-entry rescue equipment, such as tripod and winch, have had a mechanical failure
The non-entry rescue personnel have not been adequately trained in the use of the tripod and winch
You may rely on non-entry rescue but someone but either your team or your fire department will be the next step if the chain of events are anything but routine.
The decision of rescue method comes down to the nature of the space and the proficiency of your team. Do your spaces have obstructions or a narrow opening that would make it difficult to remove an unconscious patient? If yes, you need to a plan for entry rescue. Do your spaces lack internal configurations and obstructions? Does the opening to the space make it possible to remove an unconscious person? If yes, you could initiate a non-entry rescue. No matter your choice, your method, or your hazards, no one wants a rescuer who has limited training, "just enough" training, or the "minimum requirement." Create an environment for your rescuers and the expectations you have for them where you are building confidence, critical thinking ability, and they are demonstrating competency.