In 1971, the Occupational Safety and Health Administration (OSHA) created an Outreach Training Program as a voluntary program with a purpose to promote workplace safety and health, as well as help workers become more knowledgeable about workplace hazards and their rights. Over the years OSHA has done well to expand the reach of the program and with this growth has increased training availability with their train-the-trainer format. In fact according to OSHA, between FY 2008 and FY 2013, more than 3.6 million workers were trained in job hazard recognition and avoidance through the program.
OSHA offers Outreach Training Programs for 4 industries: Construction, General Industry, Maritime, and Disaster Site work. For the sake of this article, we will be covering the construction and general industries. Although their class formats and even a few topics are similar, generally they cover a different set of topics and the atmosphere and scope is much different and taking one over the other can be unnecessary and a waste of time and money, depending on the industry you work in.
Why were these implemented?
The OSHA Outreach Training Program provides training on the recognition, avoidance, abatement, and prevention of workplace hazards. Outreach classes also provide overview information regarding OSHA, including workers' rights, employer responsibilities, and how to file a complaint.
Why take one over another?
The 10 hour courses are designed and intended for entry or lower level workers, due to the nature of the material covered. It is a more simplistic approach and covers a smaller scope. The 30 hour courses are designed and intended for higher level workers, those with some safety responsibility, due to the larger scope and more topics included in the 30 hour course. Although it should be noted, that any worker would benefit from either 10 hour or 30 hour courses; however as stated earlier, a worker in the construction industry would not get a proper representation of their industry in the general industry course and vice versa.
What is the difference between the two?
As per OSHA.gov's website: "The 10 hour course provides basic awareness training on the recognition, avoidance, abatement, and prevention of workplace hazards. The course also provides information regarding workers' rights, employer responsibilities, and filing a complaint.
The 30 hour course provides a greater depth and variety of training on an expanded list of topics associated with workplace hazards in each industry. OSHA provides authorized trainers procedures for each industry program on the topic outlines for each industry."
The neat thing about these programs is that they are customizable to a company's own wants and needs. For example, the 10 hour General Industry course covers the following mandatory topics:
Introduction to OSHA

Walking/Working Surfaces

Exit Routes, Emergency Action Plans, Fire Prevention and Protection Plans

Electrical Hazards

Personal Protective Equipment

Hazard Communication
With the following example topics being selective or optional and can be selected to best tailor to a specific company based on want/need:
Hazardous Material Flammable/Combustible

Machine Guarding

Confined Space Entry Awareness

Lock Out/Tag Out
The list becomes even longer when you look at a 30 hour OSHA course. It is a more detailed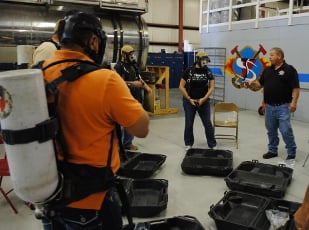 version of the previous topics and also includes Materials Handling in the mandatory topics, but adds 6 or so additional topics to be covered. The construction industry courses include even more additional topics for individual selection. The mandatory topics are different as well, tailored to include more construction specific topics, the most important difference is that of "Focus Four Hazards" which include: Fall Protection, Electrical, Struck By, and Caught in/Between.
Can anyone take either class?
These courses are not designed to be exclusive to an age group. Everyone, of all ages, can benefit from OSHA courses. Especially the general industry as it covers a good number of general topics (as the name would imply) that can be used in any setting, even an office workplace or at home.
And again, you should be certain to verify which course (General Industry or Construction Industry) is a best fit for you when registering. At STS, we are happy to answer anyone's questions regarding this difference, as it important to attend the correct one for your industry. Find out more by contacting us!
Are these classes required?
Short answer, no. They are a recommendation from OSHA as an orientation to occupational safety and health for workers. However, some states have enacted laws that mandate the training. Also, certain employers or organizations may require this training.
What are the benefits to me?
With the courses not being mandatory for all, what is the reason you should take these courses? Well, in a perfect world, one would hope you'd want to take these courses simply to establish a good safety values and attitude at your workplace. But the reality is often times not so. So below you will find a few valuable reasons to engage yourself or your staff into OSHA compliance safety training.
It promotes good safety culture through peer training
Training is intended to be participatory, using hands-on activities
Trainers are able to tailor the training topics based on specific needs of their audience
Outreach training content includes hazard recognition and avoidance, workers' rights, employer responsibilities, and hot to file a complaint; it emphasizes the value of safety and health to workers, including young workers
Outreach training is available in languages other than English (Spanish, Polish, etc.)
With the mindset you now have that OSHA outreach training is valuable training for any individual looking to stay safe in their workplace and promote a good safety culture, you may decide to sign up for yourself or others at your workplace. Safety Training Services, Inc. offers OSHA courses monthly, find out when the next available course is for you by clicking the PDF below.

If you are looking for any other safety-related course, click below to see what other courses are available!