History
Since the beginning of mankind, humans have adapted a sense of using the right tool for the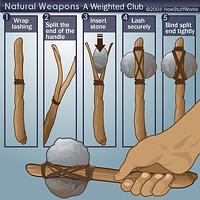 job. In ancient times, it was tying rocks or bones to sticks for use as a hammer or sharpened to make hunting easier. Essentially, they established that using crude items could be used to make life easier. Ergonomics is just that, an applied science (not just a buzzword for marketers!) of work. That is, it's intended to maximize productivity of workers by reducing/eliminating fatigue or discomfort. The literal definition of ergonomics, as Dictionary.com states, is "the study of the relationship between workers and their environment." Also known as "biotechnology," and first coined by Wojciech Jastrzebowski in 1857.
However, these early adoptions were merely used to optimize tasks. Ergonomics has since evolved into learning how to include worker safety and health by addressing muscle force, cardiovascular activity, maximum weight, etc. This is seen by Frederick Winslow Taylor in the 19th century in which he used his "Scientific Method" (AKA ergonomics) to assist coal workers in tripling their productivity by designing shovels that were lighter and smaller. Also in the 1900s Frank and Lillian Gilbreth further expanded Taylor's methods by coming up with the "Time and Motion Studies." This was meant to reduce the amount of unnecessary motions required to perform a task. With this approach, they reduced the number of motions bricklayers used (from 18 to 4.5) and allowed them to increase productivity from 120 bricks per hour to 350.
"Formal" ergonomics is generally credited to the development of more complicated machinery in WWI and WWII. As aircrafts, tanks and other complex machines were being developed; human errors were piling up, resulting in catastrophes. Non-combat casualties were an outcome of bad engineering and design. This begged the necessity of better results through better designing, and the most "modern" form of ergonomics (how we know it today) is now becoming the norm.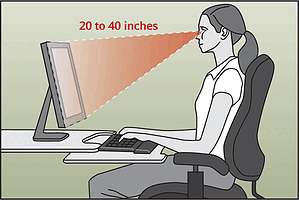 Engineers and psychologists are working together in collaboration to improve our daily lives through better design. A multi-disciplinary approach has been taken to include anthropologists, industrial engineers, cognitive scientists and physiologists in order to understand the human operators and to design systems and machines to fit said user.
Today, most of us know ergonomics in a workplace context. As the average worker in America works for about 8 hours a day, the need for ergonomic office furniture and practices is of the upmost importance. The idea is to be sure that as technology and design make our homes safer and more comfortable, and in the case of the workplace, to increase productivity, increase comfort and prevent injuries and fatigue.
Hazards Associated with Ergonomics
Back injuries - Common back injuries include sprains, herniated disks and fractured vertebrae. Lower back pain is often the result of incorrect lifting methods/habits and poor posture.
Tips include:

Properly train employees on appropriate lifting techniques

Utilize material handling equipment (carts, dollies, hand trucks)

Encourage stretching for employees to reduce muscle strain
Carpal tunnel syndrome - A nervous system disorder causing parethesia (limbs falling sleep), pain and numbness. Carpal tunnel can be caused by environmental factors such as heavy manual work or work with vibrating tools. There is even a small amount of clinical data to suggest that lighter, repetitive tasks can cause it. This includes activities when frequent/constant wrist flexion is needed or when there is pressure against the underside of the wrist.
Tips include:

Use of ergonomics equipment (includes ergo chairs, mouse pads, wrist rests, etc.)

Taking proper breaks and stretches

Use keyboard alternatives (voice recognition, digital pens)
Industrial/occupational noise - A hazard generally associated with heavy industries, in which sustained exposure can cause permanent hearing damage. However, it should be noted that OSHA identifies noise as "hazardous to worker safety and health" in many different places of employment (office work included) and by a variety of causes. Noise not only can cause hearing loss/impairment, but can be a factor in raising stress levels or even raising blood pressure. Lastly, it can impede concentration and be a factor in work accidents (office or otherwise).
Tips include:

Use earplugs or earmuffs

Be mindful of noise control strategies (architectural design, sound insulation/absorption, vibration damping, etc.)

If lighting *noise* is the issue, reduce light or retrofit fixtures
Repetitive strain injury - RSIs are as OSHA states them, "injuries to the musculoskeletal and nervous systems that may be caused by repetitive tasks, forceful exertions, vibrations,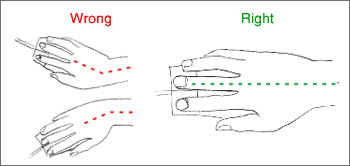 mechanical compression, or sustained or awkward positions."
Tips include:

Use ergonomics tools for specific tasks (clipboards for lots of writing, pliers for example, for electricians, ergo mouse for office workers, scissors for retail workers)
Tendonitis - Is a hazard in which a tendon becomes inflamed generally due to overuse of affected limb. This is common in upper and lower limbs and is less common in hips and torso.
Tips include:

Find the cause

Stop the stress

Maintain a healthy body

Introduce variety
How STS Can Help
Safety Training Services, Inc. can help you in many ways with regards to providing you assistance with any office safety advice. Our toll-free number (877) 724-2744 is a free service to utilize if you have a quick question regarding ergonomics or any office safety topic. If you would like to take a step further in educating yourself or your workers on office safety, STS offers courses related to general industry OSHA topics (including ergonomics and office safety). This is a great way to help your employees to understand the importance of safety in the workplace. Click the button below for more information on our OSHA-related courses.