This may seem like an odd question, where are you right now? If you had to explain it to someone who had never been there before, how would you tell them to find you? You might say you're at work, or you're in the living room. Statements like this paint a clear picture to those who know you. However, "at work" or "at home" or "around the corner" aren't enough for safety in the workplace.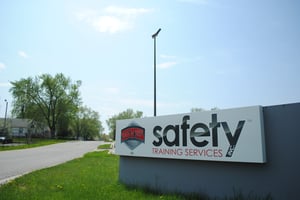 Recently an STS employee, working in their full-time position as a firefighter, was dispatched to a critical medical emergency. The caller was stated that the patient was at a major intersection. Crews arrived and could not locate the patient or the caller. A fire engine, and ambulance, and a battalion chief were all eventually involved in locating the patient. Several minutes passed while crews searched the area and dispatch attempted to contact the caller. 15 minutes later the patient was located inside a construction site about half a mile away from the intersection. After the patient had been transported to the hospital it was determined that the contractors at the site were not aware of the building's address nor the names of the streets at the much nearer intersection.
It is important to have an Emergency Action Plan, it is important to drill and ensure each component operates smoothly in a workplace emergency. It cannot be stressed enough to all workers – you must know the address of your work location if you may ever have to call for outside help in an emergency. Additionally, emergency crews need the same information that you would provide to employees such as site hazards and required PPE. In the above situation an ambulance was driven into an active and fenced construction site and then driven inside an unfinished concrete building.
The goal was to reach the patient and provide emergency care, but the patient could have been reached sooner had the employees known the location of the work site and had a plan for directing emergency crews into the facility. In many cases a few minutes allows a fire to double and triple in size, and 15 minutes or less can have serious implications for medical patients. Know your work site, know the emergency response plan. Ask questions before you ever have a legitimate need to call 911 and know your roles before the emergency.
At the start of your next shift ask yourself how an emergency crew would find you. Do you know the address? Have the police or fire departments been to your facility recently to familiarize themselves with the layout and hazards? How will you communicate these things in an emergency?