To have or not have....that is the question.
Oh wait--no its not! When it comes to workplace first aid kits, the answer is HAVE! In fact, the Federal Occupational Safety and Health Administration (OSHA) has a First Aid standard (29 CFR 1910.151) that requires trained first-aid providers at all workplaces of any size if there is no "infirmary, clinic, or hospital in near proximity to the workplace which is used for the treatment of all injured employees." And what is a band without its instruments? A first aid kit is a necessity for ANY workplace!
Before we jump too far into specifics of standards, first aid kits, and contents of, let us take a moment to discuss the full purpose of these items and how they fit into a workplace first aid program.
What is First Aid?

As stated by OSHA, first aid is emergency care provided for injury or sudden illness before emergency medical treatment is available. The first aid provider in the workplace is someone who is trained in the delivery of initial medical emergency procedures, using a limited amount of equipment to perform a primary assessment and intervention while awaiting arrival of emergency medical services (EMS) personnel.
A workplace first aid program is part of a comprehensive safety and health management system that includes the following four essential elements.
Management Leadership and Employee Involvement

Worksite Analysis

Hazard Prevention and Control

Safety and Health Training
When designing and implementing a workplace first aid program remember to:
Aim to minimize the outcome of accidents or exposures.
Comply with OSHA requirements relating to first aid.
Include sufficient quantities of appropriate and readily accessible first aid supplies and first aid equipment (*cough* automated external defibrillators or 'AEDs' *cough*)
Assign and train first aid providers who:

receive first aid training suitable to the specific workplace.
receive periodic refresher courses on first aid skills and knowledge.
What's the Risk?
Let's talk numbers for a moment. In 2004, the private industry had 5,703 work-related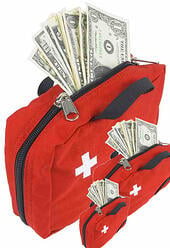 fatalities. That same year had 4.3 million total workplace injuries and illnesses, with 1.3 million resulting in days away from work.
Occupational illnesses, injuries and fatalities in 2004 cost the United States' economy $142.2 billion, according to National Safety Council estimates. The average cost per occupational fatality in 2004 exceeded one million dollars.
To cover the costs to employers from workplace injuries, it has been calculated that each and every employee in this country would have had to generate $1,010 in revenue.
OSHA Requirements
In addition to first aid requirements of 29 CFR 1910.151, several OSHA standards also require training in cardiopulmonary resuscitation (CPR) because sudden cardiac arrest from asphyxiation, electrocution, or exertion may occur. CPR may keep the victim alive until EMS arrives to provide the next level of medical care.
If an employee is expected to render first aid as part of his or her job duties, the employee is covered by the requirements of the Occupational Exposure to Bloodborne Pathogens standard (29 CFR 1910.1030). This standard includes specific training requirements.
Automated External Defibrillators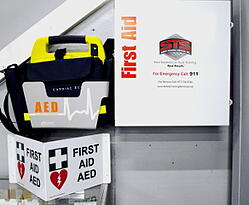 As we are in 2013, AEDs are no longer just a tool used by non-medical personnel such as police, fire service personnel, flight attendants or security guards; these are potentially life-saving devices used by anyone trained to used them (and even then, there are some that ANYONE can use with no prior knowledge). The best part, these devices are now widely available, safe, effective, portable and just plain easy to use! Using AEDs as soon as possible after sudden cardiac arrest (SCA), within 3-4 minutes, can lead to a 60% survival rate. CPR is of value because it supports the circulation and ventilation of the victim until an electric shock delivered by an AED can restore the fibrillating heart to normal. Do not neglect to include AEDs in your workplace safety program, they can and WILL save lives!
What Goes in my Workplace First Aid Kit?
At this point, we should discuss what actual items should be included in a first aid kit. For this, we will reference the American National Standards Institute (ANSI) standard (ANSI Z308.1-2009) which was revised in 2009. This standard is the minimum fill for workplace first aid kits. The new changes in the standard brought two new items and eliminated latex from first aid kits altogether. Here are the ten items for a minimum workplace first aid kit fill.
(1) First Aid Guide

(1) Absorbent Compress 4"x8" minimum

(16) 1"x3" Adhesive Bandages

(1) Adhesive Tape 2.5 yard roll

(10) Antiseptic Treatment 0.9 grams

(6) Burn Treatment 0.9 grams

(4) 3"x3" Sterile Gauze Pads

(2) Pair Medical Exam Gloves

(1) Triangular Bandage 40"x40"x56" minimum

(6) Antibiotic Ointment 0.5 grams
The following are not required, but recommended items:
Analgesic (oral, non-drowsy formula)

Bandage Compress 2"x2" minimum

Breathing Barrier (single-use)

Burn Dressing 12 sq. in.

Cold Pack 4"x5" minimum

Eye Covering 1/4" thick minimum

Eye/Face Wash (Sterile) 4 oz. minimum

Roller Bandage 2"x4" yards minimum

Hand Sanitizer
The above required kits may be suitable for your company. However, keep in mind, that more adequate means may be necessary for certain hazards of individual work environments. This may be evaluated by a competent person in your workplace, or by another safety professional. Safety Training services, Inc. is available for said service and our safety professionals provide free "walkthroughs" of your workplace and will help prescribe a first aid kits modeled to your workplaces' individual hazards and/or needs.
Training
OSHA recommends 5 key elements in a first aid training program for the workplace.
"Hands-on," skill based teaching methods.
Instruction and discussion in preparing to respond to a health emergency with an emphasis on prevention as a strategy.
Including logical and well-informed assessment of the scene and victims.
Designed and adapted for the specific workplace in responding to life-threatening emergencies.
Designed and adapted for the specific workplace in responding to non-life-threatening emergencies including management of wounds, burns, bites/stings, and bodily injuries.
Always make sure to keep updated on proper first aid requirements and trainings. The first aid program should be reviewed periodically to determine if it continues to address the needs of the specific workplace. The first aid training program should be kept up-to-date with current first aid techniques and knowledge. Outdated training and reference materials should be replaced or removed. If you do not have an adequate first aid training program, or feel that your hands are full with other workplace duties, allow Safety Training Services, Inc. to be your first aid training provider! Your facility or ours, we provide "Real Training" in hands-on scenarios with state-of-the-art equipment. CPR and AED can be included in the training program to be certain you and your employees will be ready and able to respond immediately and correctly in the event of a workplace emergency!