When you think of office safety, what are some of the first things to come into your head?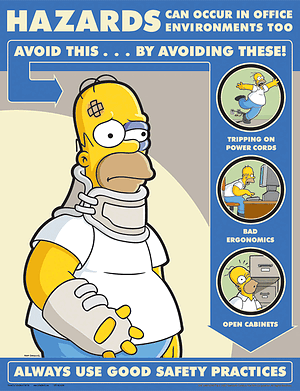 Fire extinguishers? First aid kits? Excellent! You are on the right track, but there are some other key pieces to that puzzle we love called "safety." However, talking about ALL of them would take me MUCH longer then one simple web blog; which is why I have decided to span the information out to a 4-part web series that will take place all throughout the month of December.
Ok, so the first thing a lot of us think is first aid kits, right? Remember these tips while searching for a kit.
First aid kits should be easily accessible to all employees
Remember to make sure the kit is adequate for the number of people in your workplace
Keep it stocked & fresh; no sense in having a great-looking kit with the contents expired (Don't forget bandages & wraps have expiration dates too!)
Decide how you will keep it up-to-date; buy items individually, buy refill packs or just hire someone to do it for you

---
Don't wait until there is an emergency! Make sure you have a working, satisfactory kit that will be there ready when you are. Oh you don't? Or you aren't satisfied with the service you currently have? Well then I have some great news for you, Safety Training Services can help. Visit our "Technical Services" page and find out how. Or just contact us below and ask!
---
What else should be around before disaster strikes?
Fire extinguishers?
Exactly! No workplace (or home for that matter) should be without. Let's take a look at how & what to look at when purchasing (or renting) fire extinguishers.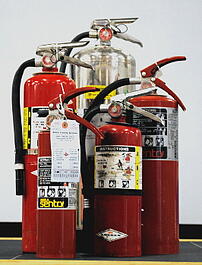 Fire extinguishers come in various shapes and sizes, and can be either rechargeable or non-rechargeable. Rechargeable are made to be reused and non-rechargeable must be replaced after use (even if only partially discharged); though both types (rechargeable & non) need to be serviced annually by a certified person/company. Servicing is also necessary whenever seal is broken. This could result from continual use, age or even just external tampering. Once a seal is broken, the unit is in danger of not working. Monthly checks should also supplement your professional annual checks. Learn how to do your own monthly extinguisher checks!
Keep in mind that fire extinguisher training is available as well. There is little value in having a fire extinguisher if you do not know how to use it!
Know your fires…
Not all are the same! As you may or may not be aware, fires start from an array of materials. Because of this, they are classified into 4 groups:
Class A – These are fires started with ordinary solid combustibles (things such as wood, cloth, paper, etc.).

Class B – These are fires started with flammable gases and liquids (things like paints, grease, tar, alcohol, etc.).

Class C – These are fires started by energized electrical equipment (things like short-circuiting, overloaded cables, etc.).

Class D - These are fires caused by the combustion of metals such as Aluminum, Magnesium, Lithium, Sodium, Potassium and their alloys.

Class E - These are fires involving electrical apparatus.

Class F/K – These are fires started generally in the kitchen or a kitchen-like setting (things like oils and fats).
The good news is that the first three classes of fires can be fought with one particular extinguisher. The "ABC" fire extinguishers are filled with mono ammonium phosphate, which is a dry chemical agent. Class D fires will require special purpose powder extinguishers. If you feel you may need one of these extinguishers or have questions regarding these extinguishers, please contact one of our fire extinguisher professionals here. Class E extinguishers use carbon dioxide to treat the fire. And lastly, Class F/K fire extinguishers (again, generally associated with kitchens & cooking appliances) are filled with a blend of potassium acetate and potassium citrate; which makes them ideal and very effective in combating those types of fires.
What about clean up?
Clean can be as simple as wiping the area with a towel or just vacuuming the residue up. The biggest challenge is simply knowing what chemical your extinguisher contains. I have linked a great do-it-yourself for fire extinguisher clean up found here.
Make sure to consult a professional here at Safety Training Services, Inc. when buying/renting fire equipment so you have the right tool for the job or if you have any further questions regarding the subject. We are here to help; much of our staff are career firefighters. Feeling up to more reading on the subject? Click here to be whisked away to our "Fire Extinguisher Services" page.