Do you need to reach something higher than chest/eye level? Do you need a ladder? Do you know how to choose the correct one suited for the task at hand? These preliminary questions were brought up in a previous article I wrote on the subject of ladder safety where I covered some basic information. But seeing as falls from ladders still make up nearly a third of the deaths in the construction industry every year, this article today will cover how to avoid injuries by following some ladder safety tips, ladder "do's & don'ts", and some requirements for training.
---
Three simple steps to prevent falls:
Plan. Provide. Train.
---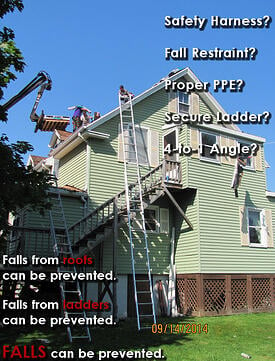 Deaths resulting from ladder falls are preventable, falls from ladders can be avoided and many lives can be saved each year simply by following safe work practices. Specifically, falls from portable ladders (step, straight, combination and extension) are one of the leading causes of occupational fatalities and injuries. As said before, these are preventable. A ladder is a tool just like any other, it is made as safe as possible and if used within the scope of its instructions, no harm should befall you. Be sure to take the time to properly understand how to select, set up, and move about on a ladder safely with these safety tips.
Read and follow all labels or markings found on the ladder.

Always inspect the ladder prior to using it.

If the ladder is damaged, it must be removed from service and tagged until repaired or discarded.

Do not use a self-supporting ladder (e.g., step ladder) as a single ladder or in a partially closed position.

Do not use the top step/rung of a ladder as a step/rung unless it was designed for that purpose.

If you intend to work on a less than stable and level surface, be sure to secure the ladder (top or bottom) to prevent displacement.

The proper angle for setting up a ladder is to place its base a quarter of the working length of the ladder from the wall or other vertical surface.

Be sure that all locks on an extension ladder are properly engaged.

The ladder's load rating

includes all of the weight it is supporting.

This includes yourself and the weight of any tools or equipment.
DO's and DON'Ts of Safe Ladder Use:
DO: Maintain a 3-point contact (two hands and a foot, or two feet and a hand) when climbing/descending a ladder.
DO: Face the ladder when climbing up or descending.
DO: Keep the body inside the side rails.
DO: Use extra care when getting on or off the ladder at the top or bottom. Avoid tipping the ladder over sideways or causing the ladder base to slide out.
DO: Carry tools in a tool belt or raise tools up using a hand line. Never carry tools in your hands while climbing up/down a ladder.
DO: Extend the top of the ladder three feet above the landing.
DO: Keep ladders free of any slippery materials.
DON'T: Use a ladder on soft ground or unstable footing.
DON'T: Exceed the ladder's maximum load rating.
DON'T: Tie two ladders together to make them longer.
DON'T: Ignore nearby overhead power lines.
DON'T: Move or shift a ladder with a person or equipment on the ladder.
DON'T: Lean out beyond the ladder's side rails.
DON'T: Use an extension ladder horizontally like a platform.
DON'T: Place a ladder on boxes, barrels, or unstable bases.
Check, Maintain and Store Ladders Well
Before using a ladder, check it carefully to ensure there are no visible defects and that it is in good working condition. Check the ladder according to the manufacturer's instructions. Maintain and store the ladder according to the manufacturer's instructions.
Training Requirements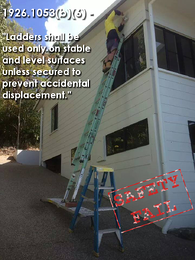 Employers must train all employees to recognize hazards related to ladders and stairways, and instruct them to minimize these hazards. For example, employers must ensure that each employee is trained by a competent person in the following areas, as applicable:
Nature of fall hazards in the work area;
Correct procedures for erecting, maintaining, and disassembling the fall protection systems to be used;
Proper construction, use, placement and care in handling of all stairways and ladders; and
Maximum intended load-carrying capacities of ladders used.
Note: Employers must retrain each employee as necessary to maintain their understanding and knowledge on the safe use and construction of ladders and stairs.