"Falls are the leading cause of death in construction and every year, falls from ladders make up nearly a third of those deaths. These deaths are preventable. Falls from ladders can be prevented and lives can be saved by following safe work practices."
--OSHA.gov
Do I Need a Ladder?
In order to answer this simple question, first you must ask yourself the following questions (as indicated by OSHA):
Will I have to hold heavy items while on the ladder?
Is the elevated area high enough that it would require a long ladder that can be unstable?
Will I be working from this height for a long time?
Do I have to stand on the ladder sideways in order to do this work?
According to OSHA, if the answer to any of these questions is a "Yes," then you may want to revisit the idea and consider using something other than a ladder (scissor lift, scaffolding, etc.)
Choosing the Right Ladder for the Job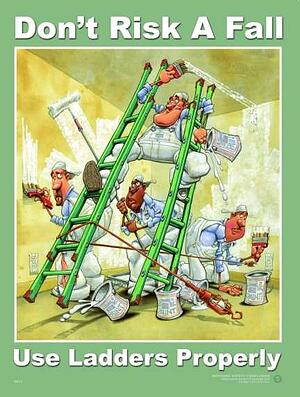 Ensure the ladder is high enough for you to reach your work area without having to stand on the top rung.
When using ladders to access another level, secure and extend the ladder at least 3 feet above the landing point to provide a safe handhold.
The base of the ladder should be secured.
Wear proper footwear
Place the ladder on stable and level ground. DO NOT place it on an uneven surface.
Ensure that the ladder is fully extended before starting work.
Prevent passersby from walking under or near ladders in use by using barriers or getting your coworker to act as a lookout.
Do not work on the top rung of the ladder.
Maintain three points of contact with the ladder at all times.
Do not carry any tools or materials in your hands when climbing a ladder.
Do not lean away from the ladder to carry out your task. Always keep your weight centered between the side rails.
Do not use ladders near doorways. If you need to use a ladder near a doorway, make sure that the door is locked.

Ladder Maintenance
Before use, visually check ladder for defects. Make sure there are no visible defects and that it's in good working condition. Always remember to maintain and store the ladder properly. Said information should always be found via manufacturer's instructions.

After checking ladder, make sure not to use if ladder:
is faulty.
is bent.
is missing a step.
has spreader bars that do not have a locking device or mechanism.

Ladder safety is so important because fall accidents
CAN BE PREVENTED
! Proper training gives an individual the knowledge and ability to get home safely every time.
Safety Training Services, Inc. is available to meet and exceed your expectations on appropriate ladder safety training and other OSHA compliance training! Find out why how we can bring value to you and your company today. Click below for more information on our OSHA compliance training courses!