Aerial Work Platforms & Powered Industrial Trucks
AWP operator training applies to persons engaged in the design, maintenance, use and operation of
AWPs (Aerial Work Platforms) & PITs (Powered Industrial Trucks). This includes scissor lifts, boom lifts, manual lifts and forklifts.
Safety Training Services will conduct operator safety training (OST) or refresher safety training (RST) required by ANSI Standards A92.3, A92.5, and A92.6, to persons engaged in the operation, use and maintenance of self-propelled scissor lifts and/or boom-supported elevating work platforms lifts (telescoping or articulating) electrically powered or by internal combustion engine.
---
AWP (Aerial Work Platform) Operator Training
(Scissor Lift, Boom Lift)
Operators will be trained and tested (written and practical) in the safe operation of both scissor lift & boom lift
related tasks/topics such as the following:
The purpose, use & location of manuals.
Proper storage of maintenance & operating manuals.
A pre-start inspection of the AWP (8.3).
Workplace inspection prior to operating the AWP.
Responsibilities associated with problems or malfunctions affecting operation of the AWP (8.4).
Factors affecting stability.
The purpose of placards & decals.
Safety rules & regulations.
Authorization to operate the AWP.
Identification of hazards associated with operation of the AWP.
Operating warnings and instructions.
Demonstration of proficiency in the operation of the AWP.
---
Forklift Operator Training


Operators will be trained in the safe operation of powered industrial trucks and in the performance of tasks such as the following:

Pre-Operation Inspection.
Function Testing.
Starting.
Handling Loads.
Truck Maneuvering.
Traveling.
Stopping.
Plus specific activities in which operators would encounter within their work place requirement regarding the operation of the fork truck.
NOTE: Skid Steer and Rough Terrain Forklift operator training is not included in this training program (per OSHA requirements) and are treated as separate training instruction courses.
---
Program consists of:
Classroom instruction

Written testing

Hands-on equipment

Pre-operation inspection

Function tests

Work-site hazard assessment

Proper operation

Proper shutdown
---
Course Objective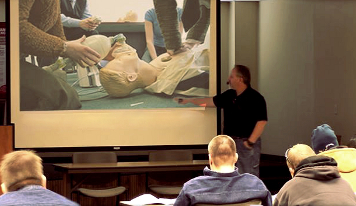 Provide professional instruction/training – for operators that is consistent with the applicable OSHA/ANSI standards.

This is "operator training" NOT simply a ½ hour tool-box talk or "equipment familiarization" that is passed off as training by some.

This program will provide the necessary training requirements to advance jobsite workers/staff/employees to "Qualified Person" status as required by OSHA/ANSI.
---
Benefits to You
Multimedia presentation to keep participants ENGAGED.
Accident cause & effect analysis to keep participants LEARNING and UNDERSTANDING.
Course completion certificate & photo IDs to keep participants HONEST about who is trained as a "Qualified Person."
Certificates and IDs list the standards trained on to keep participant and employer INFORMED of their skill set.
Training records are maintained electronically beyond ANSI 4 year requirements.
This operator status will be validated by the issuance, with successful course completion, a course completion certificate and photo ID wallet card by Safety Training Services, and is valid for 3 years.