ALS is the acronym for
Amyotrophic lateral sclerosis

. It is also known as motor neurone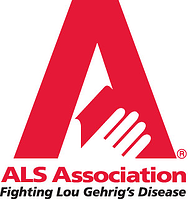 disease (MND), Charcot disease, and many know it as Lou Gehrig's disease (named after the famous baseball player from the 1920s and 30s who was forced to retire and died from ALS).

The disease is a progressive neurodegenerative disease that affects nerve cells in the brain and the spinal cord. The brain sends motor neurons to the spinal cord and from there get sent to muscles all over your body. ALS/MND affect these neurons in a way where they begin to degenerate/break down and then die, unable to send any more messages to the muscles. These muscles that enable us to move around, speak, breathe, swallow, etc. are then weakened and eventually waste away. You are still able to think, see, taste, smell, and feel but you may experience paralysis, muscle weakness, or difficulty breathing, swallowing, or even speaking. Most people with ALS die from respiratory failure, usually within 3 to 5 years from the onset of symptoms. However, about 10 percent of those with ALS survive for 10 or more years. One of these survivors is none other than Stephen Hawking, an English theoretical physicist, who you may be familiar with.

ALS is one of the most common MNDs. People of any race and ethnic background can be affected and in 90-95% of all ALS cases, the disease occurs at random with no clearly associated risk factors. These cases are individuals with no family history of ALS, however 5-10% are inherited. ALS is more common among men than women, with white males, non-Hispanics, and aged 60-69 years being the most common. However, again, younger and older people can also develop the disease.
The Truth Hurts:
No test can provide a definite diagnosis of ALS, however having signs and symptoms of both upper and lower motor neuron damage are a strong suggestion of the disease.

We do not have the answer as to what causes ALS and why some are afflicted while others are not.

No cure has yet been found for ALS. We have some treatments that slow progression and relive some symptoms, however more research is necessary to further understand how to slow, even stop, ALS.

So with many unknown elements involved, we may ask, how do we help? Research is being done to further understand the disease and how to prevent and cure it. But one of the largest movements to fight back against ALS came when 29-year-old Pete Frates, who was diagnosed himself with ALS in 2012, posted a video on social media and challenged some friends to do the same. This was the start of what many know now as the "ALS Ice Bucket Challenge." Using the hashtag "#ALSIceBucketChallenge" the world over is fighting back against ALS. The viral challenge has since become a sensation, with people across the country and even worldwide showing support, raising awareness, and donating to the previously lesser-known disease.
The challenge has certainly increased awareness. With the assistance of donations (a part of the challenge as well) research and development for a cure for ALS can be realized hopefully much sooner than previously thought. With so many people together for a great cause, the ice bucket challenge has brought in over $41 million dollars so far!
In an effort to continue the trend of raising awareness of ALS, we here at Safety Training Services conclude this article with some helpful ALS facts provided by alsa.org, as well as a video of our company President, Rob Groszewski, showing his support.
"Facts You Should Know" – From

alsa.org
ALS is not contagious

It is estimated that ALS is responsible for nearly two deaths per hundred thousand population annually.

Approximately 5,600 people in the U.S. are diagnosed with ALS each year. The incidence of ALS is two per 100,000 people, and it is estimated that as many as 30,000 Americans may have the disease at any given time.

Although the life expectancy of an ALS patient averages about two to five years from the time of diagnosis, this disease is variable and many people live with quality for five years and more. More than half of all patients live more than three years after diagnosis.

About twenty percent of people with ALS live five years or more and up to ten percent will survive more than ten years and five percent will live 20 years. There are people in whom ALS has stopped progressing and a small number of people in whom the symptoms of ALS reversed.

ALS occurs throughout the world with no radical, ethnic or socioeconomic boundaries.

ALS can strike anyone.

The onset of ALS is insidious with muscle weakness or stiffness as early symptoms. Progression of weakness, wasting and paralysis of the muscles of the limbs and trunk as well as those that control vital functions such as speech, swallowing and later breathing generally follows.

There can be significant costs for medical care, equipment and home health caregiving later in the disease. It is important to be knowledgeable about your health plan coverage and other programs for which you may be eligible, including

SSA

,

Medicare

, Medical and

Veteran Affairs benefits

.

Riluzole, the first treatment to alter the course of ALS, was approved by the FDA in late 1995. This antiglutamate drug was shown scientifically to prolong the life of persons with ALS by at least a few months. More recent studies suggest Riluzole slows the progress of ALS, allowing the patient more time in the higher functioning states when their function is less affected by ALS.

Click here for more information on the drug

. Many private health plans cover the cost of Riluzole. Further information on Riluzole coverage through Medicare Prescription Drug Benefit can be found in the

Advocacy pages of this website

.