Winter driving can be dangerous, as the winter season brings additional potential hazards not found (as much at least) in other seasons. Generally, when you want to drive somewhere, you simply get into your vehicle and go. In the winter, what might normally be a 5 minute trip, may take double the time (or more!) due to unforeseen circumstances in the weather. Preparation is the key to overcoming these issues. Knowing that we cannot control the weather, or even other drivers on the road, we must plan ahead when braving the roads during winter.
As OSHA puts it, there are "Three P's" to safe winter driving:
PREPARE for the trip; PROTECT yourself; and PREVENT crashes on the road.
Preparation is, once again, paramount to overcoming winter driving issues. In addition to the freezing (sometimes sub-freezing) temperatures, things like rain or snow quickly make short trips into long "adventures." There is simply no place for hurriedness while driving in the winter months. But how do you prepare before the trip? Use the information below to help you.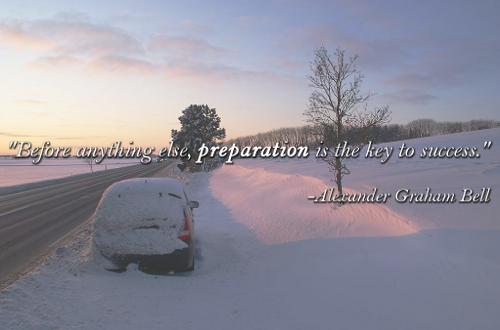 Maintenance of your vehicle
Things to check/do:
Tires

Be sure to check the treads of your tires to be sure they are "winter ready." Treads with low or insufficient depth sacrifice your vehicle's traction and mobility. Have a tire pressure gauge in your vehicle, or check regularly somewhere. Also, now is a great time to check your spare.

Battery

Vehicle batteries lose charge as the temperature drops. Sub-zero temperatures can cause batteries to require twice the normal amount of current to start an engine.

Windows & Lights

Between frost, snow, and ice, keeping your windows clear is sometimes a task. Be sure to have good wipers installed and refill your washer fluid regularly. Also, be sure to inspect your vehicle's lights/bulbs for any repairs/replacements needed.

Fluids

Check coolants and oil levels as well, and flush/refill as necessary.
---
Things suggested to keep in vehicle; for an emergency:
Flashlight
Jumper cables
Sand (for weight; kitty litter also works
Shovel
Snow brush/scraper
Flares (some sort of warning device is handy)
Blanket(s)
For long(er) trips: Also remember food, water, medication, cell phone & charger(s)
---

Winter Weather Driving Tips
Allow plenty of time

Check the weather

Leave early if necessary

Familiarize yourself with the maps/directions

Let someone know your route and arrival time

Remember to steer into a skid

Know your brakes;

Antilock – Stomp!

Non-antilock – Pump!

Stopping distances are longer on snow and ice (usually double that or more of "normal", black ice is especially dangerous)

Don't idle for a long time with the windows up or in an enclosed space (carbon monoxide can be a factor)

Keep your car filled with gas during winter!
Prevent crashes
Be responsible! Never mix drugs and alcohol with driving.

If you going out to drink, plan for a sober driver!

Slow down and increase distances between cars.

No one's time is more important than another's. Stay a safe distance and decelerate to switch lanes, instead of speeding up to "cut" others off.

Keep your eyes open for pedestrians walking in the road!

Avoid fatigue – get plenty of rest before the trip, stop at least three hours, and rotate drivers if possible.
---
For more safety tips and safety news, subscribe to the Safety Training Services Safety Blog or follow us on Facebook and Twitter!
Looking for OSHA, HAZWOPER, forklift, or other safety training courses? Look no further than STS; where we offer "Real Experience. Real Training. Real Results."