OSHA's Top 10 Violations for 2013
(& Other Interesting OSHA Facts)
Federal OSHA has 10 regional offices and 90 local area offices.

They had a budget of $563,658,000 in FY 2013.

They conducted 40,961 Federal inspections in FY 2012.

4,383 workers were killed on the job in 2012.

That's 3.2 per 100,000 full-time equivalent workers
On average, more than 84 a week or nearly 12 deaths every day.
This is the second lowest preliminary total since the fatal injury census was first conducted in 1992.

Fatal work injuries involving contractors accounted for 16 percent of all fatal work injuries in 2012.

Out of 3,945 worker fatalities in private industry in calendar year 2012, 775 or 19.6% were in construction.

The leading causes of worker deaths on construction sites were falls, followed by struck by object, electrocution, and caught-in/between.

These "Fatal Four" were responsible for nearly three out of five (56%) construction worker deaths in 2012.
Eliminating the Fatal Four would save
435 workers' lives

in America every year.
Falls – 278 out of 775 total deaths in construction in CY 2012 (36%)

Struck by Object

– 78 (10%)

Electrocutions

– 66 (9%)

Caught-in/between

– 13 (2%)
OSHA's Top Ten Violations for 2013
The following were the top 10 most frequently cited standards by Federal OSHA in fiscal year 2013 (October 1, 2012 through September 30, 2013):
OSHA is Making a Difference

Since 1970, workplace fatalities have been reduced by

more than 65 percent

and occupational injury and illness rates have

declined by 67 percent

. At the same time, U.S. employment has almost doubled.
Worker deaths in America are

down–on average

, from about 38 worker deaths a day in

1970

to 12 a day in

2012

.
Worker injuries and illnesses are down–from 10.9 incidents per 100 workers in 1972 to 3.5 per 100 in 2011.
Don't become a statistic!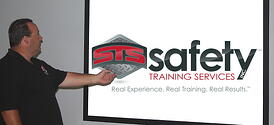 So what should you do, now armed with this knowledge? Well, first thing is get up and simply take a look around your office/plant/factory. Do you see any of these standards violated? In the safety world, if you think you have a problem....chances are you do! If you do not know you have violations or do not know how to look for them, that's perfectly understandable--you are not alone. This is where Safety Training Services can help!
Your next step should be to identify these issues. Have you found them to be problems in training (or lack thereof)? Or retraining (annual refresher courses)? Unsatisfied with previous training/trainers? Remember, ignorance is bliss....until you get a visit from OSHA. We will train (and/or retrain) you and your employees on OSHA compliance & other safety-related courses. Our site or yours, our hands-on courses will provide you with appropriate training to keep you safe and trained consistent to OSHA requirements.
Maybe your issue is equipment? Whether you need new, used, rentals, servicing or just to figure out what equipment to use for a specific job, speaking to one of our professionals in our Technical division will help you find the right tool for the job in whatever capacity necessary.
Or simply Contact our safety consultants at (219) 554-2180 and found out how we will help identify problems and conduct a safety-related gap analysis for your company.