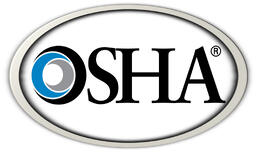 During their 2012 fiscal year (which ran from October 2011 through September 2012), federal OSHA conducted almost 41,000 workplace safety and health inspections. Very interestingly enough, it seemed as though companies didn't take the hint from the previous year in that the top cited violation is not only still number 1, but actually increased from fiscal year 2011. Below, you find the top 10 citations they handed out to companies for 2012 and further down you may be interested to see the previous year's top 10 as well.

OSHA's Top 10 for 2012
OSHA's Top 10 for 2011
Don't become a statistic!
So what should you do, now armed with this knowledge? Well, first thing is get up and simply take a look around your office/plant/factory. Do you see any of these standards violated? In the safety world, if you think you have a problem....chances are you do! If you do not know you have violations or do not know how to look for them, that's perfectly understandable--you are not alone. This is where Safety Training Services can help!
Your next step should be to identify these issues. Have you found them to be problems in training (or lack thereof)? Or retraining (annual refresher courses)? Unsatisfied with previous training/trainers? Remember, ignorance is bliss....until you get a visit from OSHA. We will train (and/or retrain) you and your employees on OSHA compliance & other safety-related courses. Our site or yours, our hands-on courses will provide you with appropriate training to keep you safe and trained consistent to OSHA requirements.
Maybe your issue is equipment? Whether you need new, used, rentals, servicing or just to figure out what equipment to use for a specific job, speaking to one of our professionals in our Technical division will help you find the right tool for the job in whatever capacity necessary.
Or simply contact our safety consulting division at (219) 554-2180 and found out how we will help identify problems and conduct a safety-related gap analysis for your company.