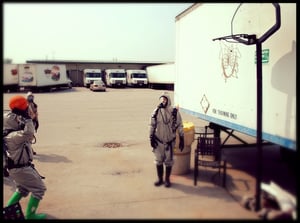 The Hazardous Waste Operations and Emergency Response (HAZWOPER) standard requires employers to provide training to employees who provide emergency response services during releases of hazardous substances, 29 CFR 1910.120(q)(6). The level of training the employer must provide depends on the role the employee will perform in a response.
What's the difference in the level of hazardous material (hazmat) training?





Does OSHA allow computer based training for hazmat refresher training?




Does OSHA allow you to break up hazmat training over different dates/times?


What does OSHA do if I don't get my annual hazmat refresher training?
---
The difference between a hazmat responder and a hazmat technician

Employees must be trained to the first responder operations level if they will be part of the initial response for the purpose of protecting persons, property, or the environment from the effects of the hazardous substance release. Employees who respond for the purpose of actually stopping the release must be trained as hazardous materials technicians.
Responders at the operations level must receive at least eight hours of training or have sufficient experience to objectively demonstrate certain competencies listed in the HAZWOPER standard.
Hazardous materials technicians must receive at least 24 hours of training at the operations level and satisfy certain additional competencies listed in the standard. [See 29 CFR 1910.120(q)(6)(ii) and 1910.120(q)(6)(iii)]
In addition, the HAZWOPER standard requires that operations and technician level employees "receive annual refresher training of sufficient content and duration to maintain their competencies, or shall demonstrate competency in those areas at least yearly." 29 CFR 1910.120(q)(8).

It is important to note that training required under 1910.120(q) is dependent upon the anticipated duties and functions of the responder. Training and competencies must be consistent with each employee's anticipated role. For example, certain course topics could be suitable for operations level or hazmat technician refresher training, however they may not provide proper refresher training for personnel assigned as incident commanders (individuals who assume control of the incident scene).

Furthermore, an employee trained as a hazmat technician for responses to certain types of emergencies (e.g., agricultural emergencies) may not be adequately trained to respond to other types of emergencies (e.g., chemical releases or spills).
---
Using computer-based training as refresher training
Computer-based training may meet some refresher training requirements, provided that it covers topics relevant to workers' assigned duties. It must be supplemented by the opportunity to ask questions of a qualified trainer and by an assessment of hands-on performance of work tasks.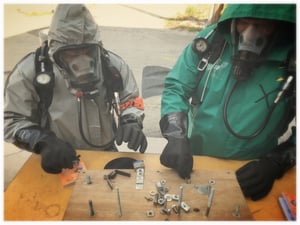 In OSHA's view, self paced, interactive computer-based training can serve as a valuable training tool in the context of an over-all HAZWOPER training program. However, use of computer-based training by itself would not be sufficient to meet the intent of the standard's various training requirements. Their position on this matter is essentially the same as their policy on the use of training videos, as the two approaches have similar shortcomings. OSHA urges employers to be wary of relaying solely on generic "packaged" training programs in meeting their training requirements. Training required under HAZWOPER includes site-specific elements and should also to some degree be tailored to workers' assigned duties.
In order for the training to be effective, trainees must have the opportunity to ask questions. This requirement could be met by providing a telephone hotline so that trainees will have direct access to a qualified trainer. The trainees' mastery of covered knowledge and skills must also be assessed. It is not clear whether "validation of course-work completion" as described in the advertisement you enclosed means that this particular computer-based training program actually assesses whether workers have mastered the covered material.
Hazardous waste operations can involve many complex and hazardous tasks. It is imperative that employees be able to perform such tasks safely. Thus, auditing of worker performance is required for all types of HAZWOPER training. In the case of refresher training, this requirement for auditing of worker performance could be addressed during periodic safety meetings.
Traditional, hands-on training is the preferred method. The purpose of hands-on training, for example in the donning and doffing of personal protective equipment, is two-fold: first, to ensure that workers have an opportunity to learn by experience, and second, to assess whether workers have mastered the necessary skills. The employer may determine that hands-on training is unnecessary for a given refresher course. However, if an employer elects not to use hands-on training in their refresher course, the employer must first assess the employees' skill level, and ensure that workers remain competent in their current and any newly assigned duties.
In conclusion, it is possible in some cases to use computer-based training in meeting the refresher training requirements of 29 CFR 1910.120(e)(8), provided that the computer-based training covers topics relevant to workers' assigned duties and is supplemented by the opportunity to ask questions of a qualified trainer, as well as an assessment of worker skill degradation through auditing of hands-on performance of work tasks.
---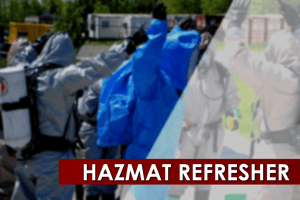 Refresher training done over different dates/time

Refresher training may be given in segments so long as the required 8 hours have been completed by the employee's anniversary date.
We also point out that 8 hours is a minimum requirement; many employers will find it difficult to cover all topics listed in the training requirements in the minimum allowable time. The competencies to be covered during training sessions may demand more than 8 hours. When developing training, employers must structure their refresher training based on the employee's expected job duties.
---
Consequence of missing your annual refresher training date

If the date for refresher training has lapsed, the need to repeat initial training must be determined based on the employee's familiarity with safety and health procedures used on site. This means if you haven't kept up your skills, you may need to repeat a full hazmat training course. If a full course is deemed not necessary, the employee should take the next available refresher training course. And as OSHA states it, "There should be a record in the employee's file indicating why the training has been delayed and when the training will be completed."
--From osha.gov